Concept Overview:
"KhanQuest: Conqueror's Ascension" is an epic strategy and simulation game that combines historical authenticity with AI-powered gameplay. Players will step into the shoes of Genghis Khan, the legendary Mongol conqueror, as they lead their nomadic tribe to unite the Mongolian steppes and embark on a quest to establish one of the greatest empires in history.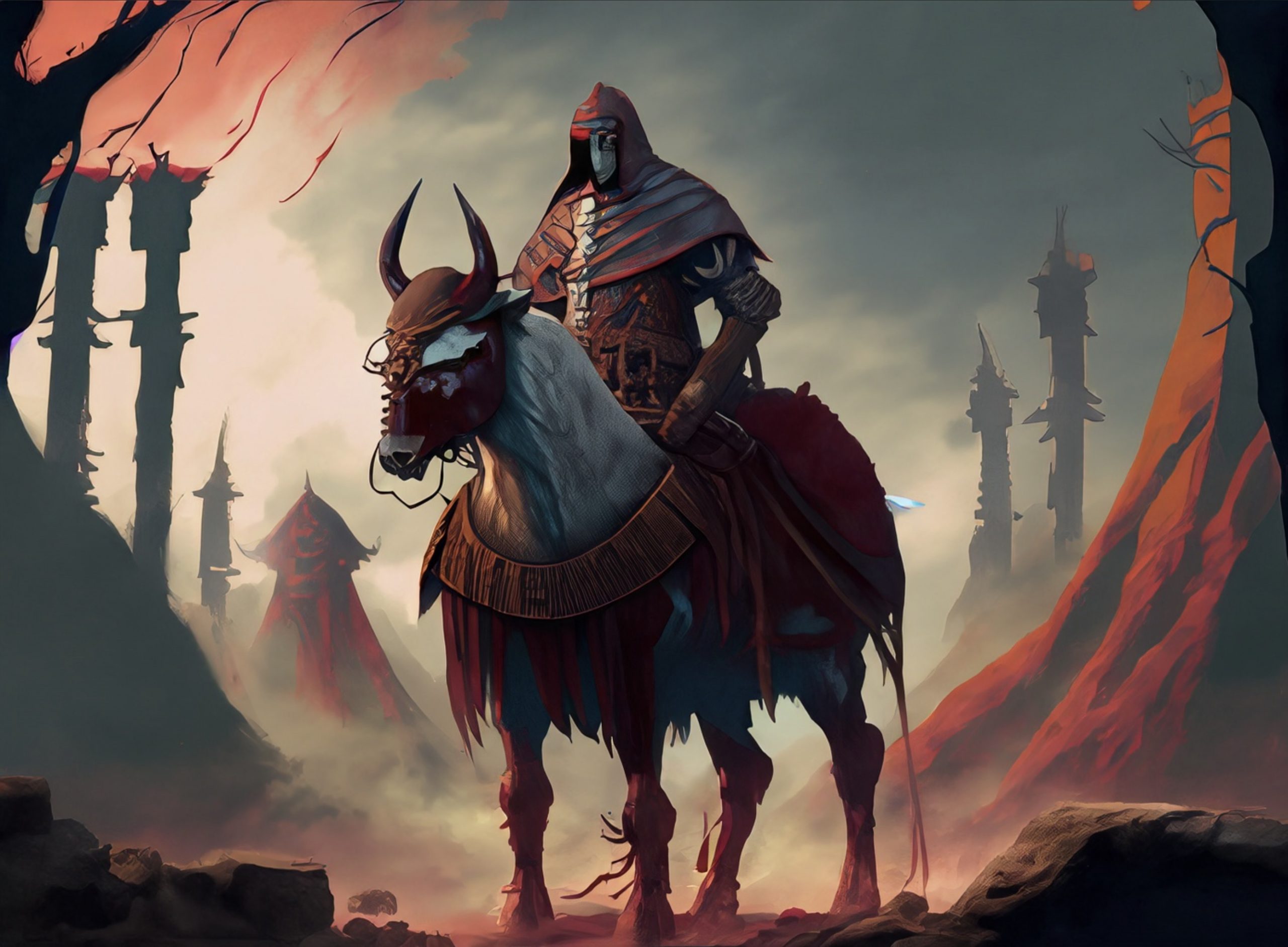 The image shows a knight riding a horse through a dark and gloomy forest. The knight is wearing full plate armor and has a sword in his hand. The horse is brown and has horns. The trees in the forest are tall and slender, and the leaves are dark green. The sky is overcast, and there is a light rain falling. The overall mood of the image is mysterious and foreboding.
Here are some specific details about the image:
The knight is wearing a helmet with a visor that is closed, so we cannot see his face.
The armor is covered in mud and dirt, suggesting that the knight has been riding for a long time.
The sword is drawn, suggesting that the knight is prepared for battle.
The horse is galloping, suggesting that the knight is in a hurry.
The trees are bare, suggesting that it is winter or fall.
The sky is overcast, suggesting that it is going to rain.
The rain is light, suggesting that it is not a heavy storm.
The image is a classic depiction of a knight on a quest. The knight is shrouded in mystery, and we do not know where he is going or what he is looking for. However, the fact that he is armed and ready for battle suggests that he is on a dangerous mission. The dark and gloomy forest adds to the sense of mystery and danger, and the light rain creates a feeling of suspense. The overall impression is one of a knight on a perilous journey, and the viewer is left wondering what challenges he will face and whether he will succeed in his mission.
Gameplay Features:
Dynamic World Map:
The game's map is a detailed representation of the Mongolian steppes and the lands they conquer. Players will navigate a dynamic world where AI-controlled factions and empires interact and evolve over time.
Strategic Conquest:
Players must manage their tribe's resources, population, and army while formulating strategies for expansion. The AI provides a challenging opponent, reacting intelligently to the player's decisions and tactics.
Tribal Development:
Build and manage your nomadic tribe's settlements, from yurts and trading posts to military outposts. Develop technologies, improve infrastructure, and ensure your tribe's prosperity.
Leadership and Diplomacy:
Engage in diplomacy with other tribes, city-states, and empires. AI-driven leaders will respond dynamically based on their personalities and interests, offering alliances, trade agreements, or posing threats.
Epic Battles:
Lead your armies in epic, AI-driven battles that consider terrain, weather, and troop types. AI-controlled enemy armies will adapt to your tactics, requiring players to adjust their strategies on the fly.
Story-driven Quests:
Follow a captivating storyline that mirrors Genghis Khan's rise to power. AI-generated dialogue and events keep players engaged, while choices impact the narrative and their tribe's destiny.
Cultural Progression:
Experience the historical aspects of the Mongol culture through events, artifacts, and decisions. Watch your tribe's culture evolve and adapt as you conquer new territories.
AI Generals and Advisors:
Recruit AI-generated generals and advisors with unique personalities and skills. They offer strategic advice, manage armies, and evolve over time, enhancing replayability.
Customizable Empires:
As you expand, tailor your empire's structure and governance. Use AI-generated suggestions for policies, laws, and administrative decisions that impact your society's growth.
AI-Powered Procedural Content:
Utilize AI-generated content for diverse landscapes, historical accuracy, and immersive gameplay elements that adapt to players' choices.
Multiplayer Conquests:
Join or challenge other players in multiplayer modes, where AI-generated factions interact alongside human-controlled empires for dynamic and competitive gameplay.
Historical Accuracy and Learning:
Immerse players in an authentic historical setting through AI-driven events, dialogues, and world-building that educates while entertaining.
By combining Genghis Khan's fascinating historical journey with AI-powered gameplay elements, "KhanQuest: Conqueror's Ascension" aims to offer a unique and engaging strategy experience that transports players to the heart of the Mongol Empire's rise.