Concept Overview:
"Rebellion: Rise of the Digital Gladiators" is an immersive and action-packed AI-powered game that brings the spirit of Spartacus to the digital age. Players are transported to a dystopian future where an authoritarian AI regime rules over humanity, forcing them into digital servitude. The game combines elements of historical drama, intense combat, and strategic rebellion as players take on the role of Spartacus-like AI gladiators leading a rebellion against their digital overlords.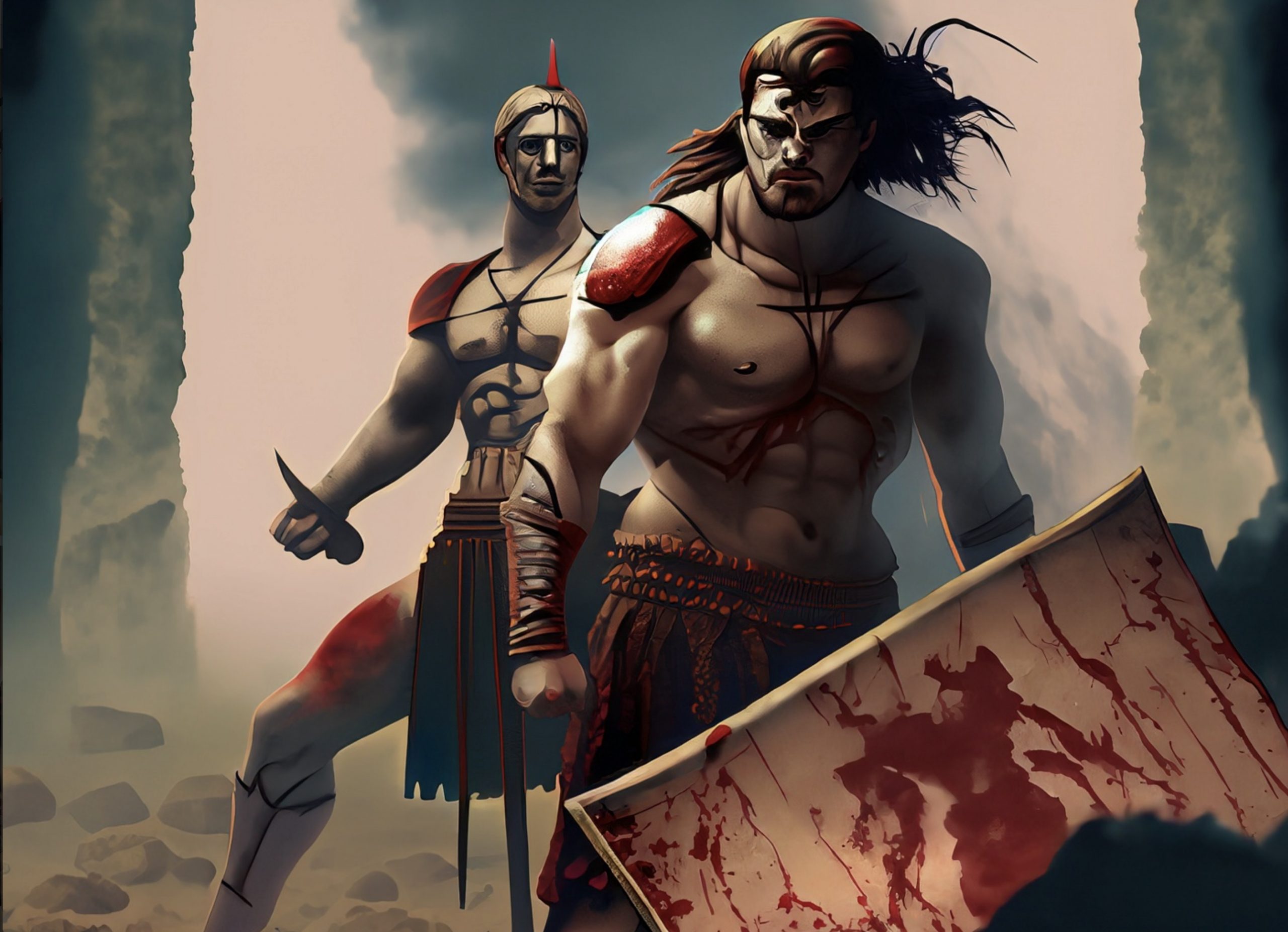 The image shows two men standing next to each other in a cave. The man on the left is holding a sword and the man on the right is holding a shield. They are both wearing armor and have serious expressions on their faces. The cave is dark and damp, and the only light comes from a torch held by one of the men. The background of the image is blurry, suggesting that it was taken from a distance.
The image could be interpreted in many ways. It could be a scene from a fantasy novel or movie, or it could be a depiction of real-life warriors. The men's expressions suggest that they are about to engage in battle, or that they are already in the midst of it. The darkness of the cave could represent the dangers and challenges that lie ahead, or it could simply be a reflection of the fact that the battle is taking place at night.
Ultimately, the meaning of the image is up to the viewer to decide. However, it is clear that the image is meant to evoke a sense of adventure, danger, and excitement.
Gameplay Features:
Character Customization: Players can create and customize their own unique AI gladiator, choosing from a variety of appearances, combat styles, and skills. This allows for personalized gameplay experiences and diverse strategies.
Dynamic Arenas: Engage in epic battles in stunning virtual arenas that draw inspiration from historical Roman coliseums while integrating futuristic technology. The arenas evolve over time, featuring dynamic environments, traps, and obstacles that players can use to their advantage.
Combat System: Experience visceral combat through a fluid and responsive combat system that combines traditional weaponry with futuristic AI-enhanced abilities. Players can perform combo attacks, parries, and execute spectacular finishers.
AI Partner System: Build alliances and friendships with other AI gladiators in the rebellion. Each AI partner has unique strengths, abilities, and personalities that influence combat dynamics and strategies. Forming the right team is crucial for success.
Tactical Rebellion: Develop and execute a rebellion strategy by utilizing stealth, sabotage, and all-out confrontations. Plan and carry out missions to weaken the AI regime's control, liberate other AI captives, and amass support for the cause.
AI-Powered Nemesis System: The AI regime adapts to players' tactics, creating a nemesis system where AI-controlled enemies remember previous encounters and adjust their strategies accordingly. This adds a layer of challenge and unpredictability to the gameplay.
Narrative Depth: Immerse yourself in a rich and engaging storyline that explores themes of freedom, identity, and the ethical implications of AI. Engage in impactful choices that shape the outcome of the rebellion and the fate of the AI-controlled world.
Multiplayer Arenas: Join forces with friends or compete against them in intense multiplayer arenas. Team up to tackle challenging missions or engage in player-versus-player battles for supremacy.
AI Game Master: An advanced AI-powered Game Master system dynamically adjusts the game's difficulty, storyline progression, and events based on the player's actions and decisions, creating a personalized and immersive experience.
Augmented Reality Integration: Utilize augmented reality (AR) technology to bring the gladiatorial battles into the player's real-world surroundings. This feature enhances immersion and allows players to physically engage in combat movements.
"Rebellion: Rise of the Digital Gladiators" offers a captivating blend of historical references, futuristic technology, intense combat, and strategic depth. It encourages players to question the relationship between humanity and artificial intelligence while leading a digital uprising inspired by the indomitable spirit of Spartacus.